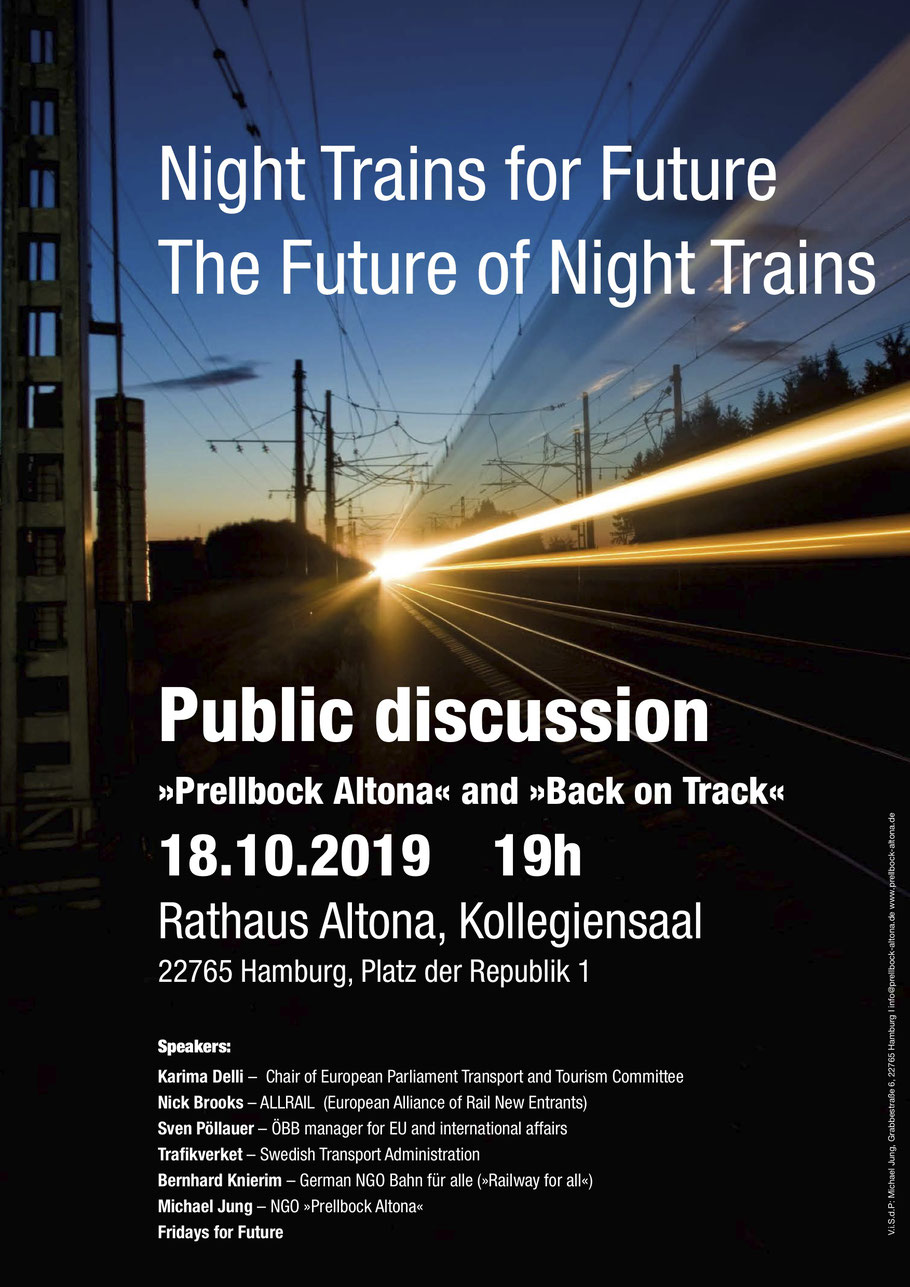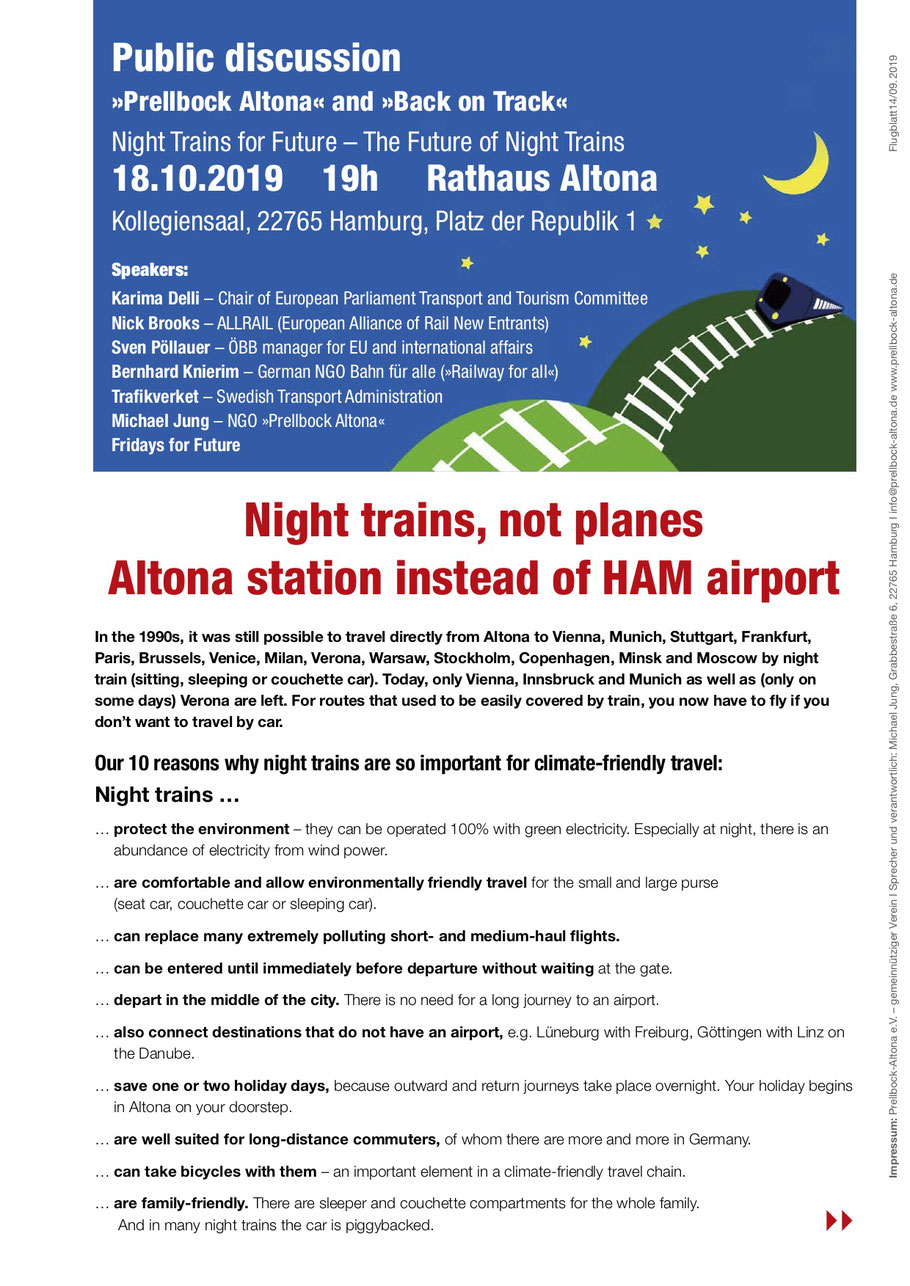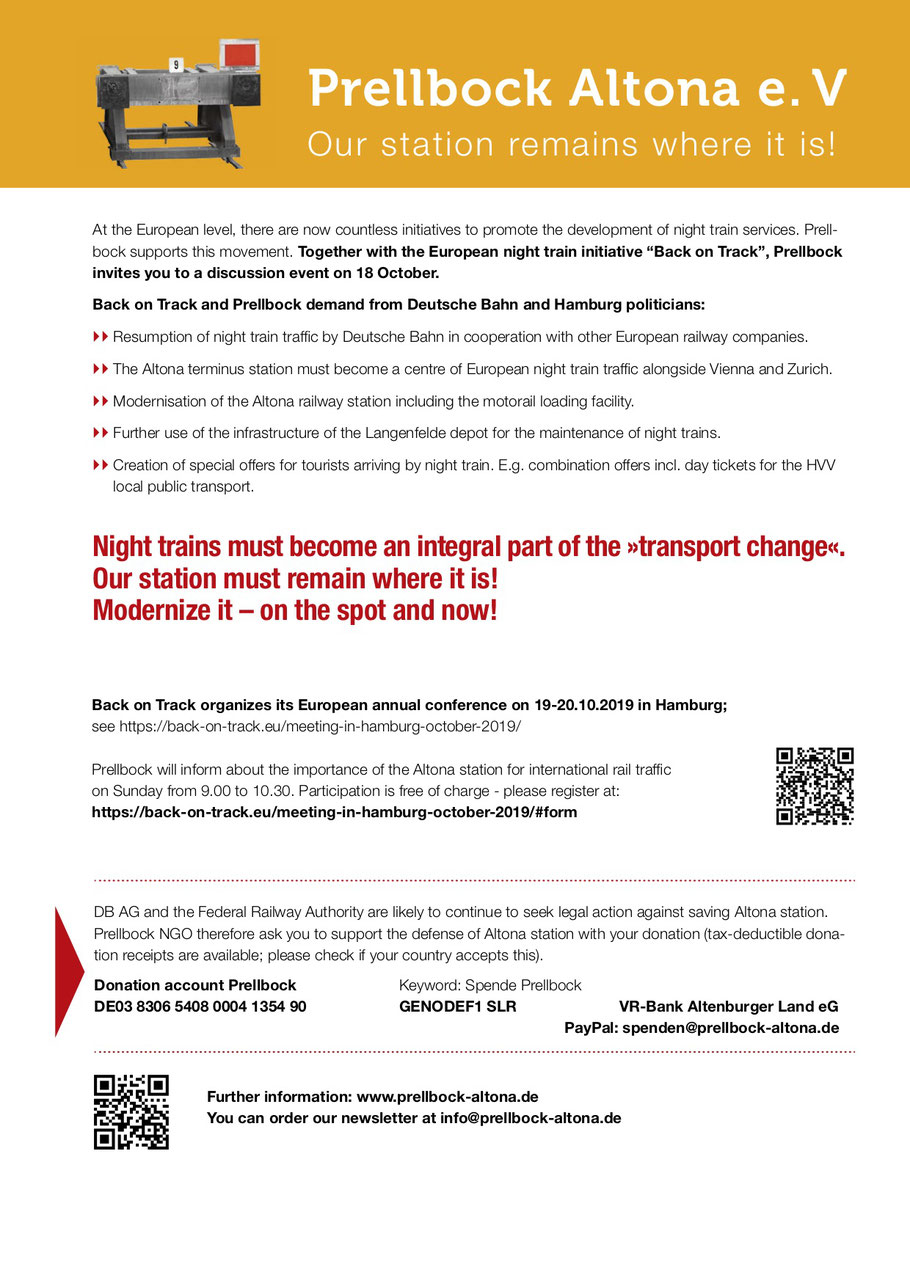 ---
The Back-on-Track network of passengers using night trains had called a half-day conference on Tuesday January 30th, 2018 in the European Parliament. The event was co-hosted by Lucy Anderson MEP/UK and Jakop Dalunde MEP/Sweden. The aim was to consider the contribution which night trains can make towards providing  an environmentally friendly alternative; to look at positive developments and what can be done by political and industry decision-makers to promote overnight services, as part of a Europe-wide network of international trains.
After a presentation of the »Back on Track« network bych Poul Kattler contributions by Kurt Bauer (Head of ÖBB-Long distance traffic), Libor Lochman (Executive Director of European Railway CER) and Marcin Wojcik (EU-Commission DG Move, department C3 »Single European Rain Area«) started the discussion which included contributions by Danish MEP Jens Rohde and Sven Gossel, private railway entrepreneur. Activists from different countries gave reports about the specific situation of night trains. You find a report in English on the »Back on Track« website. Reports in German can be found at Zugreiseblog and TrainTracks.eu.
During a meeting after the conference, the participants from »Back on Track« draw their conclusions in eight points:
NIGHT TRAINS – 8 POINTS
1. Night trains are needed where there is a demand for long-distance travel, as part of a 24-hour international network, to help meet de-carbonisation targets. The train has the advantage of offering travel at night in comfort.
2. Competition between rail and other modes is welcome, but on a level playing field, taking into account the climate cost and encouraging co-operation within the railway industry in the interests of passengers.
3. We need an independent European plan which takes account of (a) costs and benefits of night trains (b) customer needs (timetables, facilities, connections).
4. Trains should offer a choice of levels of comfort with a good minimum – and therefore a choice of fares.
5. Fares need to be attractive and not too complex; and distribution should be non-discriminatory, with through ticketing as the norm.
6. For international day and night services, we need greater harmonisation of rolling stock, signalling and other equipment.
7. Innovation must be encouraged (such as Lunajet – mixed passenger and high-value goods).
8. We want to see an attractive night train alternative, irrespective of whether trains are  provided by the public or private sector. A strengthened European Railway Agency may help achieve this.
---
Online journalist Daniel Elkan, who runs the SnowCarbon website, has published many useful information and feature stories about (night) train travel in Europe.
Do you want to travel between the U.K. and the Alps? Go to Brussels and Cologne, then take the ÖBB Nightjet. Look here!
This is how teddy bears go skiing by sleeper train.
There is also a direct Eurostar train to the French Alps.
Always a challenge: the Paris stopover. More information here. Of course it would be more relaxed if one could take a night train from Paris to Southern Germany, Austria or Switzerland.
---
The French association »Oui au train de nuit« (»Say yes to the night train«) has released a study on the potential of the French »Intercités de nuit« (»Night intercity«) trains. You can download the English version here and the French original here.
This is the summary:
The climate challenge of this century encourages to rethink our mobility. Planes and individual cars, very energy-consuming, are used for a great portion of very-long-distance travels (more than 750 km). In order to progress towards modal shift to more ecological modes, massive investments for rail have been made since the 2000's. They have been mostly concentrated on High-Speed-Lines (LGV, in French) projects.
But in spite of these huge investments, these projects did not reduce of the emissions of aviation, which keep growing in France. What's more, it is becoming very complicated to finance the expansion of the LGV network, as the most relevant lines – between metropolises separated by 400 to 750 km – have already been built. And nowadays passengers tend to prefer cheaper tickets to faster journeys.
Besides, another rail solution for very long distances, the InterCity Night train (ICN) sees its dismantling accelerated in 2016-2017. As for the classical railway network and the daytime Intercity trains (ICJ for »InterCités de Jour«), they have suffered underinvestment during all these years.
Neglected for the last decades, the ICN offer now has problems of visibility, unattractive timetables, and too frequent delays and cancellations: it seems that its use has been – willingly or not – discouraged. SNCF and the French State have kept repeating contradictory justifications around the »alleged deficit« and »empty« night trains, but they have high occupancy rates. The ICN has in fact quite many advantages:
·       Saving time: To travel more than 750 km and to arrive in the morning, the ICN offers a very useful and appreciated »night jump«. The day train would force to leave on the day before, and to pay for accommodation. The ICN therefore saves half a day and leaves the whole day on destination: »the ICN allows to travel 1000 km in one hour: 1/2 h to fall asleep, and 1/2 h to wake up«.
·       A multi-directional network to serve the regions: As high-speed trains have to make few stopovers, they do not benefit much to small cities. What's more, the LGV network forgets transverse relations, which do not pass through Paris. Night trains are therefore necessary to irrigate medium-sized cities and to connect directly regions that are far from one another.
·       To connect South of France to the rest of the county: Many Southern cities are located more than 750 km away from Paris, which is too long for high-speed lines to be relevant. Furthermore, Paris being rather north than at the centre of France, it is not a good transport hub for southern regions: from the latter, to go through Paris to reach the East, West or Centre increases distances, costs and duration of travel. An expensive TGV journey of more than 4 or even 6 hours is not attractive. Consequently, the decline of Intercity trains makes a large part of France being considered almost inaccessible by train from the South.
·       A sober mode in terms of public funding: beyond the pretext of the »so-called deficit«, the ICN remains one of the transportation modes which is closest to self-financing. Replacing these trains with planes or LGV projects would be much more expensive for the taxpayer and for the traveller.
·       A climate-friendly mode: the night train not only consumes little energy, but it uses the existing infrastructure and thus avoids creating new artificial surfaces. It fosters modal shift from air to rail, in a much cheaper way than LGV projects do, with a wider scope, while being much faster to implement.
·       Travel on a European scale: relevant for distances from 550 km up to 1500 km, the ICN can serve regions of the South and also international connections. Austria, Russia, Finland and Sweden are already betting on the night train. France can also play a key role in Western Europe for modal shift from planes to ICN.
»We are at the verge of a renaissance for night trains«, so let's not lose time. Climate change doesn't wait...
---
Austrian railway company ÖBB, who already had a 17 per cent share of night travels in their long-distance sector, acquired all 42 sleeping cars of Deutsche Bahn and 15 couchette cars equipped for handicapped travelers. They continued with the three DB trains from Munich to Italy (Rome, Milan, Venice) and replaced DB's Hamburg-Munich and Amsterdam-Munich trains by Hamburg-Innsbruck and Düsseldorf-Innsbruck. They formed one Zurich-Berlin-Hamburg connection from DB's two trains Zurich-Berlin and Zurich-Hamburg.
That is the good news.
The bad news is that they did not take the rest of the lines: Zurich-Amsterdam, Zurich-Dresden-Prague, Cologne-Berlin-Warsaw/Prague.
DB claims that Intercity trains with seated cars are »night trains«, too, and boast that they offer »new connections« between Basel and Hamburg via Cologne, Basel and Hamburg via Frankfurt, Cologne and Binz via Berlin, Stuttgart and Berlin.
If you take a second look, you will see that these connections have been established with the former CNL night trains during many years. Basel-Cologne was part of the Zurich-Amsterdam night train, and the remaining seated cars have just been combined with an Intercity train Cologne-Hamburg. Basel-Frankfurt-Hamburg is the same ICE train as before: once a week. Cologne-Berlin has been part of the Cologne-Warsaw/Prague train - they even kept the train number 447! And Binz on the beautiful island of Rügen had been served by a full-size night train from Zurich during the summer weekends - now it gets only seated cars from Cologne. Stuttgart-Berlin via Frankfurt (not via Nuremberg, as you may have supposed) is a combination of former Munich-Stuttgart-Frankfurt-Hamburg/Amsterdam and Zurich-Frankfurt-Erfurt-Berlin trains.
And to tell the truth: there is no service on board of these night trains. No restaurant, no bistro, no »snack caddy«, no steward offering coffee. Nothing. You have to bring your food – or you have to leave the train during a stop at a large station. (Hoping to find your luggage when returning to your seat.)
---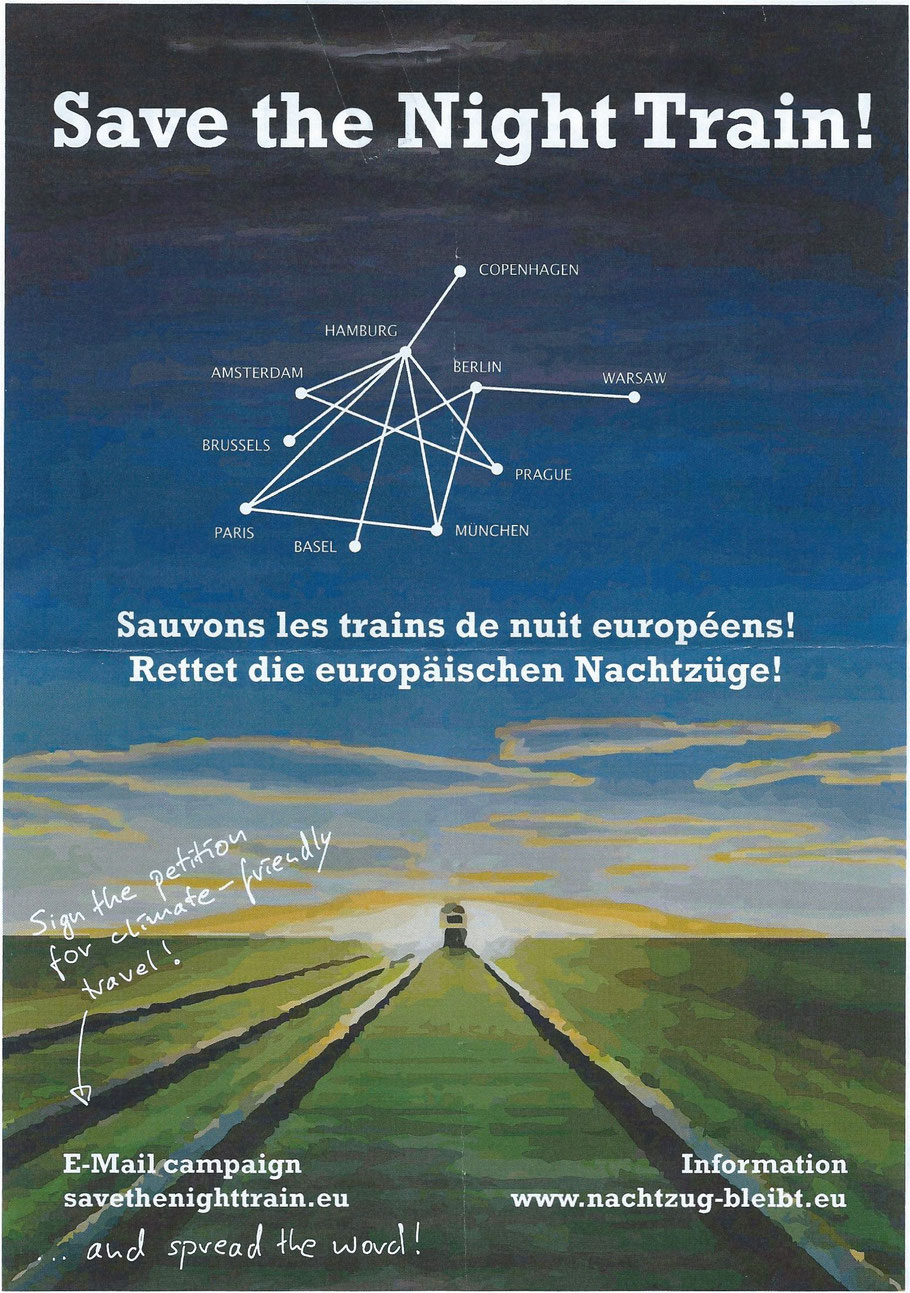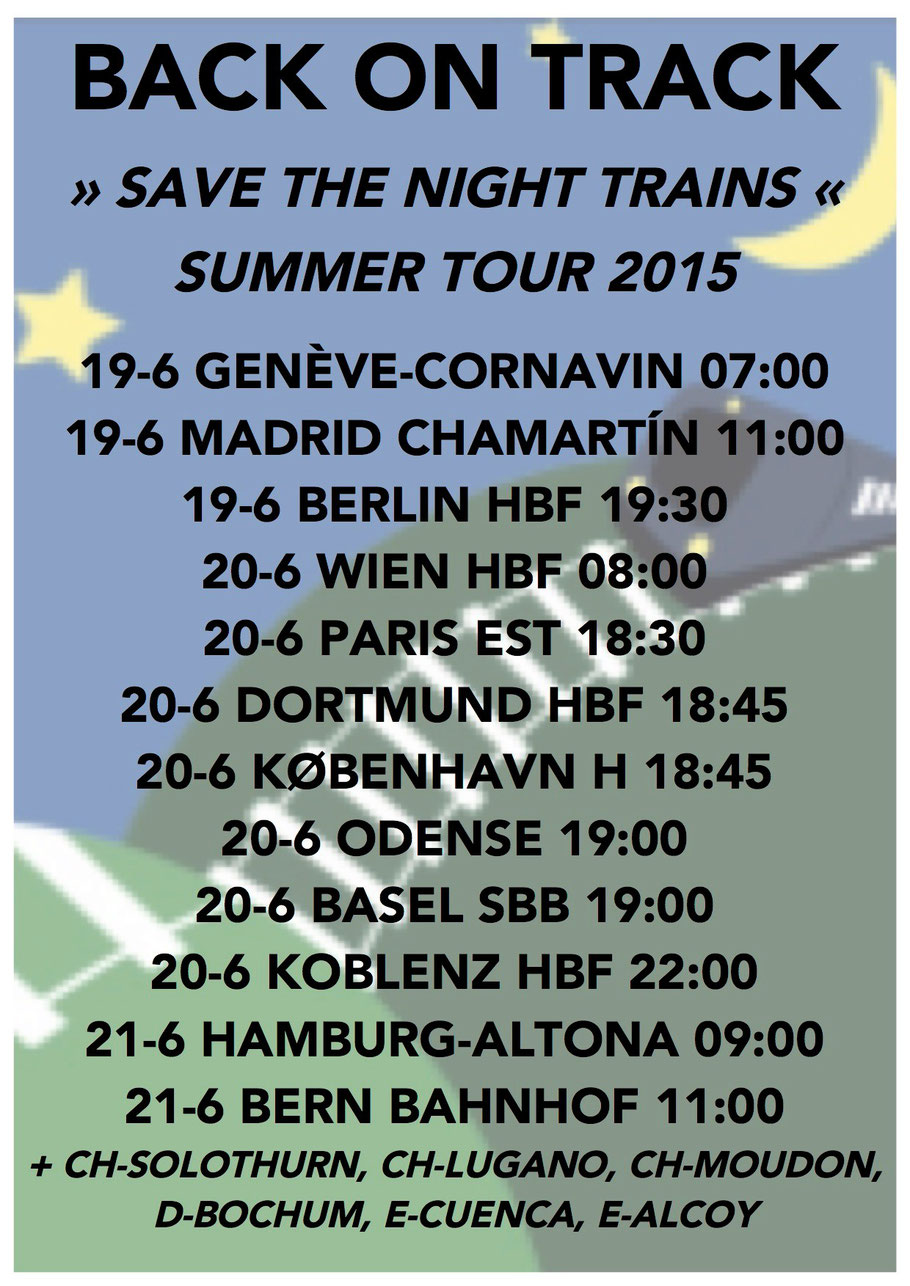 Photos and media coverage in English:
---
Thousands of rail travellers are gathering across Europe for a weekend of protests to highlight the drastic phasing out of night trains across the continent.
From Geneva to Madrid and Copenhagen to Vienna, train enthusiasts will hope to put pressure on European rail providers and politicians to reverse a decision they say will annihilate arguably one of the most efficient, environmentally sustainable and convenient ways of travelling.
...
Read more: http://www.theguardian.com/world/2015/jun/19/rail-passengers-protest-night-train-cuts
---
On March 6th, 2015, German parliament voted down three motions of the Left party which demanded to put an end to discriminating taxation of night trains, to establish a law on long-distance train which would fulfil article 87 e of the Constitution, and to stop canceling night trains.
Only the Left and the Green party voted in favour of the motions.
Immediately after the debate, protest arose in front of the parliament building. See more on our Start page.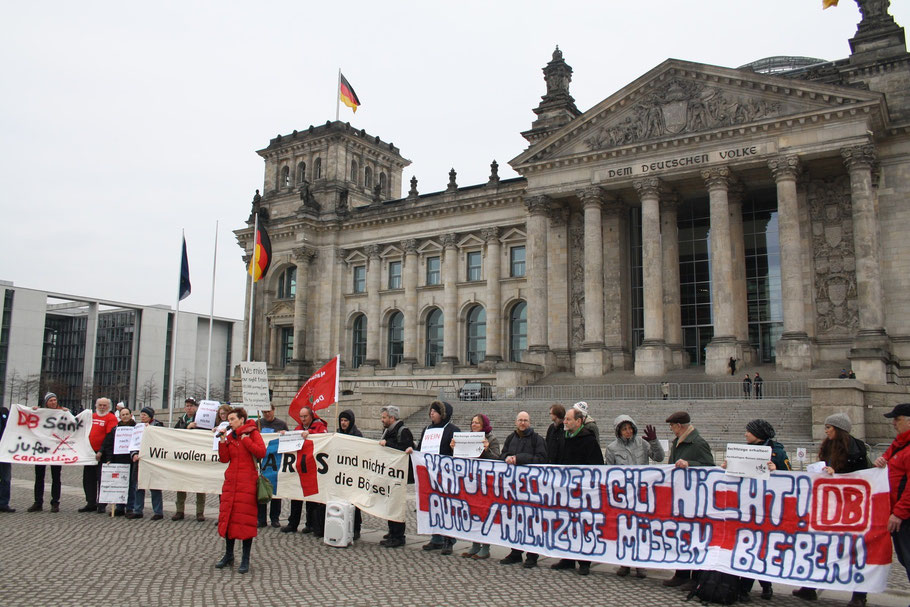 ---
December 12, 2014, in front of Gare de l'Est station: a crowd has gathered under the slogans »Let us save the night train« and »I want my train back«. Inside the station: trade unionists, ecologists, public transport users associations, railway staff, travellers ... and a blend of Gilbert Bécaud, ZAZ and James Brown.
At the same time, the first features about the protests were aired on the French-German TV network ARTE. Media, including AP, had covered the arrival of this train at Gare de l'Est in the morning and the story behind Deutsche Bahn's decision to cut one of the most important and most popular European night trains, linking the French capital with the three largest German cities: Berlin, Hamburg and Munich.
The day before, on occasion of the last departure of this train from Germany, protest rallies had been held at Berlin, Hamburg, Hannover, Göttingen and Munich: abseiling in the middle of Berlin's prestigious Central Station, a flashmob in Hannover ... check here for photos and more!
Six years before, in December of 2008, Deutsche Bahn had shut down the night train between Hamburg and Paris. Protesters marched with the slogan »Better go to Paris than float on the stock market« – two years later, the train was back on the track, and DB still is 100 % state-owned! So, we are optimistic that Deutsche Bahn and French railway SNCF will make a U-turn within one, two or three years.
The Guardian has covered the night train topic several times and has denounced the stupidity of shutting down the most environment-friendly mode of transport.
---
Copenhagen Central Station Sunday the 2nd of November 2014: A dance to honor the night train. We waved good bye to the last night train from Denmark to Europe 6:46pm and organised dance, speeches and live music to express our dissatisfaction over the fact that the Danish and German railway (DSB and DB) have decided to close down our only truly climate friendly alternative to air travels across Europe.
See photos here.
---
Outline for an Initiative
"Save our motorail and night train services"
Campaigning for the expansion of intra-European rail links
The following outlines 16 elements for a campaign to save night train and motorail services and to optimise Europe-wide rail links. These points emerged from discussions at meetings of the rail expert group Bürgerbahn statt Börsenbahn (BsB) ("Rail for the people not for the stock exchange") in Fulda on 5 July 2014, a number of discussion rounds with works councils from DB ERS ("Deutsche Bahn European Railservice"), inter alia in Hamburg and Dortmund, and in meetings of the Bündnis Bahn für Alle, an alliance against rail privatisation, at the end of July and the beginning of August 2014.
1
The starting points for the project are the long process of creeping cutbacks to night trains on the German and European rail networks and recent internal decisions by the railways, either made public or of which we are aware, which will lead to the virtually complete phasing out of night train services in Germany and, where cross-border night trains are concerned, in Europe too. One special aspect here is the current decimation of Deutsche Bahn's motorail train services, compounded by ongoing cutbacks to traditional European rail links.
2
These developments are counterproductive in three respects.
Firstly they are out of line with the goals of climate protection and a sustainable transport policy. Official transport policy at federal level in Germany and at EU level confirms rail to be the most sustainable of all forms of motorised transport. Calls come from all sides to expand rail transport. Yet the opposite is happening – particularly glaringly in relation to night trains and Europe-wide rail links.
Secondly these cutbacks are in striking contrast to the officially declared goal of the EU and its Member States to establish closely meshed transport links and transport flows to help Europe to "grow together". What is happening in the rail sector is in actual fact leading increasingly to the division of Europe.
Thirdly this policy of slashing services in this area runs counter to the aim of helping to put rail companies on the road to recovery at European level. It is a policy which threatens to eliminate a key component of rail transport, a segment which has been a symbol and trademark of this mode of transport for a good 150 years. One only has to think of the legends created around great European trains in general and night trains in particular (The Orient Express, the Golden Arrow) and see how rail travel is reflected in literature (Night Train to Lisbon). The wholesale cuts in this area are detrimental to passengers and harmful to business.
...